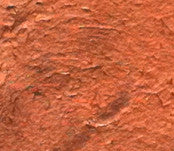 Copper Bronzing Mini
Special Effect Colors are super-concentrated encaustic paints, especially useful when creating encaustic monotypes.
Copper Bronzing is metallic very warm reddish gold color.
On raw paper on a hot palette, the mass tone lands and around that a halo sometimes forms of the contrasting color, gray veining into a very pale green.
Note: The reason these are separate from Metallics is that I don't think people should use bronzing pigment for brush painting on panels. If that green can't flow onto the paper, it has the potential to rise to the surface over time and look like verdigris. It is actual metal, after all. The bleed on paper removes any chance of that greenish look on the surface.
-- H. Evans, paint maker
---
We Also Recommend